A Conversation with John Casey
The Zoom conversation with John was a lot of fun. John was entertaining and very generous in sharing his life story. Thank you for all those who participated John Casey, Keith Longworth, Adam Sapera, Aidrian Graham, Alan Rassaby, Bill McCallum, George Mavros, James Daniel, Ken McLoughlin, Michael Rayner, Neale Morison, Norm Matheson, Peter Sheldon, Stephen Dickinson, Stephen Ellean, Steven Garlick, Tony Weston.
Some comments from those who were there
"That was so enjoyable - seeing and hearing from those who were there"
Peter Sheldon
"Many thanks to John Casey for presenting at the first NSBHS Classof73 Zoom meeting , often listen to ABC Radio's Conversations , this was right up there"
James Daniel
"What a fantastic thing to do- so good to hear people we knew's life stories."
Michael Rayner
"That was fantastic, thanks so much for setting this up. So many great stories, so great to see what people have become"
Bill McCallum
We will do some more Zoom conversations with different classmates, different interviewers. We are thinking of pairing people together and having them each swap roles. Everyone has a story so stay tuned, you could be next. All participation is of course voluntary. Please leave any comments you might have in the forum for this or ideas for improvement.
We All Need Some Humour in these Troubled Times
For most of us located around the world and locked up home a little humour goes a long way at the moment. Please submit any funny videos, jokes or feel good stories you have to our site administrator (KeithRLongworth@gmail.com) and we will publish them on our class website.
Worlds Funniest Joke (Allegedly)
Two hunters are out in the woods when one of them collapses. He doesn't seem to be breathing and his eyes are glazed. The other guy whips out his phone and calls the emergency services. He gasps, "My friend is dead! What can I do?" The operator says, "Calm down. I can help. First, let's make sure he's dead." There is a silence; then a gun shot is heard. Back on the phone, the guy says, "OK, what's next?"
My Favourite Joke
There are two people jogging in a wood, and they run into a bear. They turn around and start running away. One runner turns frantically to his companion who is oblivious to the danger with a relaxed look on his face. Why aren't you panicking? Don't you know you can't outrun a bear "Outrun a bear, I only have to outrun you."
Or you could stay and fight the bear.
45th Re-union on Sat 10 November
A very enjoyable night was had catching up with over 30 classmates and teachers at the Oaks Hotel. Special thanks to James Daniel being the catalyst to making it happen. You can see the welcoming speach from Peter Sheldon and a talk from one of our favourite teachers, Ian Cochrane. Photos from the night have been posted under re-union photos. For those classmates/teachers that took photos on the night please email any of them to keithrlongworth@gmail.com and I will include them on the site.
Ian Cochrane - NSBHS teacher and old boy awarded Order of Australia Medal
Special congratulations to Ian Cochrane for being awarded a Order of Australia medal for services to people with a disability and to education. Ian was a teacher at North Sydney Boys High during the years 1968-72 and many of us will probably have been taught mathematics by him. He was a great teacher and has had a wonderful life of gving service to others. We are so pleased that his work has been recognised. Thanks to Paul Fookes for alerting us to this award.
MEDAL (OAM) OF THE ORDER OF AUSTRALIA IN THE GENERAL DIVISION
Dr Ian Douglas COCHRANE, Wahroonga NSW 2076
For service to people with a disability, and to education.
Adult Disability Camp
• Co-Director, 15 years.
• Camp Leader.
• Volunteer, 2001.
Friends of LAMB in Australia (FOLIA)
• Co-Founder, 2005.
LAMB School Bangladesh
• Teacher and Teacher Trainer, since 2005.
• Fundraiser.
Livingstone School Bangladesh
• A school for the poorest of the poor in north-west rural Bangladesh.
• The only Teacher and Teacher Trainer since it began in 2010.
• Fundraiser.
Other Teaching Roles
• Mathematics Head Teacher, All Saints Greek Orthodox Grammar School, 1998-2003.
• Headmaster, Mamre Christian School, 1994-1996.
• Leading Teacher, Grantham High School, 1989-1993.
• Mathematics Head Teacher, Barrenjoey High School, 1984-1988.
• Lecturer in Mathematics Education, University of Sydney, 1979-1983.
• Mathematics Head Teacher, Burwood Girls High School, 1974-1978.
• Relieving Mathematics Head Teacher, Macarthur Girls High School, 1973.
• Mathematics Teacher, North Sydney Boys High School, 1968-1972.
• Developed the Sydney Teacher Behaviour Inventory [STBI], a rating instrument to assess the quality of teaching in secondary schools. Used by over 4000 people in both Australia and Bangladesh.
40th Re-union Speeches
Website Functions
Our website now has a cleaner "responsive design" which allows it to properly display if you are using a PC, tablet or mobile phone. The main changes apart from the look and feel are the menu items in the top right hand corner of the Home page.
The Mail icon will allow you to email any of our classmates.
The Bell icon will provide any alerts to you of changes on the system that you want to be notified for. eg someone updates their profile, new updates occur etc
The Profile icon will allow you to change your notify me preferences, update your contact info, change your profile including adding photos and videos, change your password and log out. Tip, if you are uploading photos or videos click on the small pencil icon.
The Gear icon is for system administrators so most people will not see this icon.
The 3 lines Menu icon allows the menu items of Home Page, Classmate Profiles, Reunion photos, In Memory and Forum to be selected when running off your mobile. Functionally redundant when operating on a PC or tablet as you can select same items from the menu bar.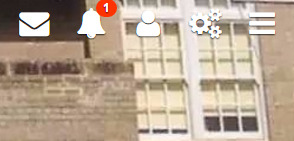 Re-union Photos
The photos of the 30th, 40th and 45th re-unions are now located under Reunion Photos. Click on the View Photos