Neale Morison Conversation Sun 12 July 8am (AEST)
Link to the next conversation with Neale Morison is https://us02web.zoom.us/j/81749198502 Neale is a great documenter (as well as musician, poet, writer, technologist) and has a fantastic site detailing his life and works at http://www.nealemorison.com/ Well worth the read.
Bill McCallum Conversation Sun 5 July 8am (AEST)
Video of this weeks conversation with Bill McCallum has been posted under Re-unions/Conversations. Enjoyable, funny, illuminating - many thanks to both Bill and Neale
Next series of conversations
Steve Garlick & Jim Marjoram - Sun 9 Aug & Sun 16 Aug at 8am (AEST)
Ther are more Conversations planned for September & October.
As always if you can't make it a Zoom video of the Conversation will be posted on our website.
Dry Australian Humour - Noel Hutley
One of our classmates Noel Hutley was interviewed by the Justinian magazine in 2015 shortly after he was elected President of the NSW Bar Association. It provides a hilarious example of dry Australian humour to such deep and thought provoking questions as "What is in your fridge". Only a few quotes are highlighted below so as not to incur a copyright lawsuit from the magazine with the full article at https://justinian.com.au/featurettes/noel-hutley.html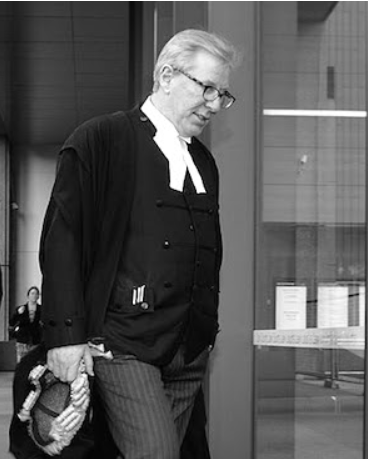 Describe yourself in three words.
Concerned about this.
What is in your refrigerator?
What my children require.
Who would you most like to be stranded with on a desert island?
A boat owner.
What is on your bedside table?
A light.
Why law, and not another worthwhile pursuit in life?
Originally because medicine was too much like hard work and thereafter because it is the last legal blood sport.
If you weren't a barrister what would you most like to be doing?
Studying to become a barrister.
On what occasions would you use a breath-freshener?
When meeting a High Court judge.
What would you change about Australia?
Precious little and quite a bit.
What would your epitaph say?
As of today I would be content if my name was spelt correctly.
We All Need Some Humour in these Troubled Times
For most of us located around the world and locked up home a little humour goes a long way at the moment. Please submit any funny videos, jokes or feel good stories you have to our site administrator (KeithRLongworth@gmail.com) and we will publish them on our class website.
Worlds Funniest Joke (Allegedly)
Two hunters are out in the woods when one of them collapses. He doesn't seem to be breathing and his eyes are glazed. The other guy whips out his phone and calls the emergency services. He gasps, "My friend is dead! What can I do?" The operator says, "Calm down. I can help. First, let's make sure he's dead." There is a silence; then a gun shot is heard. Back on the phone, the guy says, "OK, what's next?"
My Favourite Joke
There are two people jogging in a wood, and they run into a bear. They turn around and start running away. One runner turns frantically to his companion who is oblivious to the danger with a relaxed look on his face. Why aren't you panicking? Don't you know you can't outrun a bear "Outrun a bear, I only have to outrun you."
Or you could stay and fight the bear.
40th Re-union Speeches
45th Re-union on Sat 10 November
A very enjoyable night was had catching up with over 30 classmates and teachers at the Oaks Hotel. Special thanks to James Daniel being the catalyst to making it happen. You can see the welcoming speach from Peter Sheldon and a talk from one of our favourite teachers, Ian Cochrane. Photos from the night have been posted under re-union photos. For those classmates/teachers that took photos on the night please email any of them to keithrlongworth@gmail.com and I will include them on the site.