Return to Gulgong
Gulgong was fantastic, please see the Forum for updates from some of the participants.

Survey
Nunber of surveys completed - 17.
Only takes a couple of minutes to complete, 30 seconds if you are fast. Please assist. WE NEED YOU!
In deciding when and where to hold the 50th re-union in 2023 it would be really helpful to get early feedback from classmates on preferred timings and any further ideas to where to hold the event. If you could take a couple of minutes and fill in the survey it would help guide our collective thinking.
We will have a further poll to determine the final selection of dates and venue based on the various suggestions put forward.
You can locate the survey under 50th Re-union 2023 > Initial survey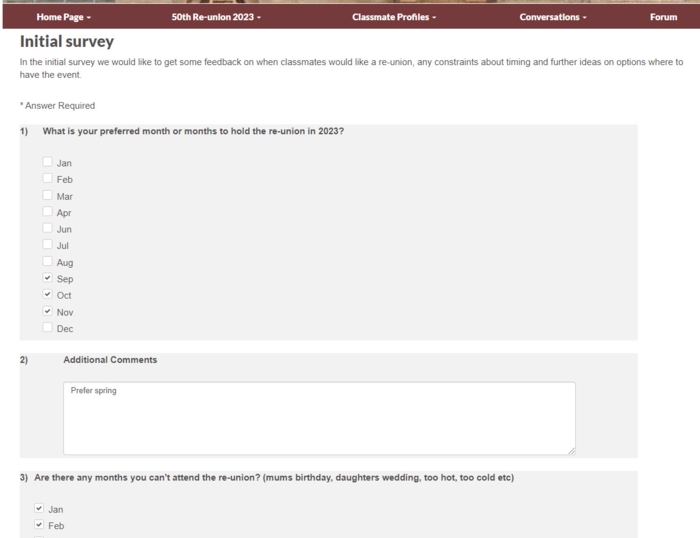 Brainstorming meeting to discuss ideas for 50th Re-union
Catch some brainstorming ideas for 50th Re-union from some of your classmates under 50th Re-union 2023 > 50th Planning
Any further ideas please contribute to Forum or put your ideas down on the 50th Re-union 2023 > Initial survey
What makes us happy!!!
So what are the right choices for happiness? You may find inspiration from the participants in the Harvard Study of Adult Development — one of the worlds longest-running studies on happiness.
"The surprising finding is that our relationships and how happy we are in our relationships has a powerful influence on our health. Taking care of your body is important, but tending to your relationships is a form of self-care too. That, I think, is the revelation." (Robert Waldinger professor of psychiatry at Harvard Medical School)
Close relationships, more than money or fame, are what keep people happy throughout their lives, the study revealed. Those ties protect people from life's discontents, help to delay mental and physical decline, and are better predictors of long and happy lives than social class, IQ, or even genes.