Weekend at Bill Lyon's Farm in Narooma
What can we say, another brilliant, fantastic weekend spent with old friends and new friends. A special thank you to our host, Bill Lyons who organised such fun filled activities and was such a gracious host sharing his lovely family farm with us. To everyone who attended thank you for your company, your wonderful good humour and sharing so many of those expereinces of your life that made the weekend so enjoyable.
The unofficial resident photographer and videographer Ian Carragher, as well as others will no doubt post more photos and videos of the weekend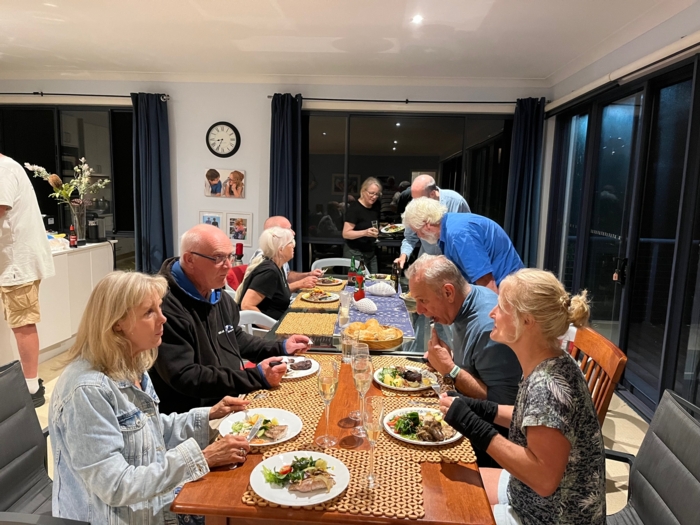 Those who came along
Bill Lyons
Andrew & Sue Hoyle
Neil Rickard
Ian & Sue Carragher
Ken McLoughlin
Adrian Graham
Bruce & Lisa Batterham
Norm Matheson
Colin Cussel
Geoff & Marie Boulton
James Daniel
Keith & Rosemarie Longworth
Weekend at Bill Lyon's Farm in Narooma followed by Snowy Mountain walks
Bill Lyons has graciously offered to host NSBHS1973 classmates at his family farm in Narooma (4.5 hours south of Sydney). As you can see from the photos it is adjacent to the ocean with glorious rural views. Bring your swimming costumes and tennis racquets or just laze around with old friends (or new friends)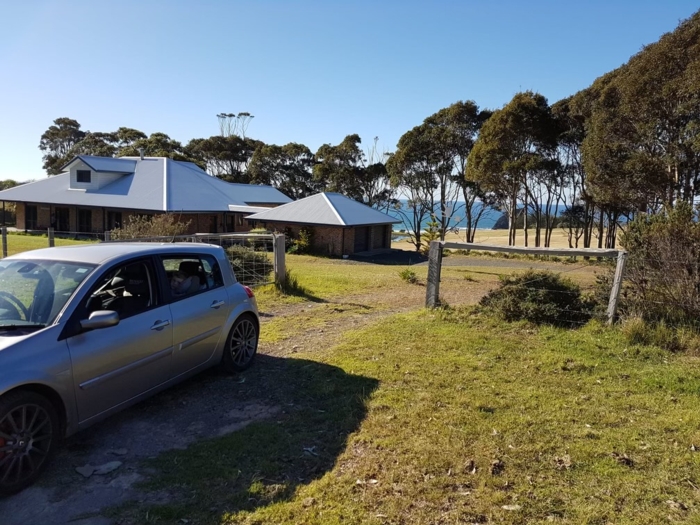 Bills family farm
Arrive on Friday 24 March between 2pm and 5pm or later with departure for Mountain walks on Monday morning. Ken & James are organizing walks and accommodation in the Snowy Mountains See Forum posts for details.
If you have ever been on one of our weekends away (Gulgong or Port Macquarie) you will know they are just a hoot, so enjoyable, so much fun Everyone is welcome to come along with or without partners.
Those intending to come along so far. (updated 24/2/2023)
Bill Lyons
Bruce Batterham & Lisa
Geoff Boulton
Ian & Sue Carragher
Colin Cussel
James Daniel
Adrian Graham (Narooma only)
Andrew & Sue Hoyle
Keith & Rosemarie Longworth (Narooma only)
Norm Matheson
Ken McLoughlin
Neil Rickard
(Looking a fun crew !!!)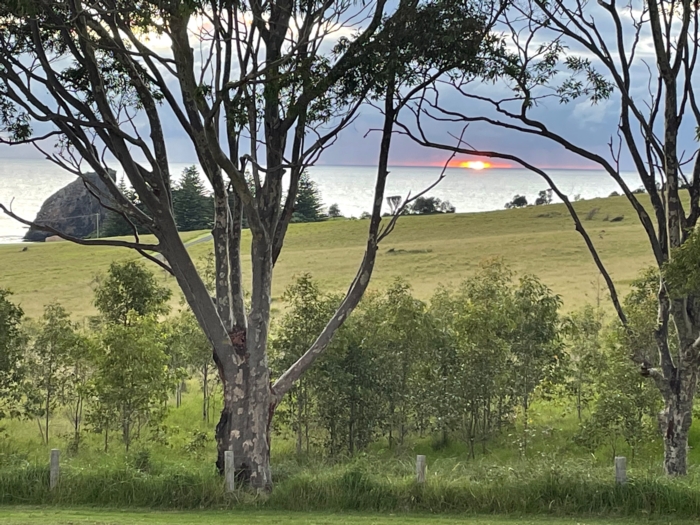 Stones throw from the ocean (well a good throw)
Outline of Planned Activities
Friday, March 24th – Monday 27th, 2023
Location: "Haddington", 7207 Princes Highway, NAROOMA, 2546, NSW
(Approx 4.5 hours driving south of Sydney)
How to get there? Keep on (A1) Princes Highway and drive through the township of Narooma heading south, and out of town towards Bega and Melbourne. The last buildings of the town are the Narooma High School complex (on the left). Notice the speed indicator signs for the "School Zone" speed change down to 40 KPHh during the start and end of school hours. Where the traffic speed sign signalling the end of the zone (where the road speed returns to 80 KPH), immediately past this on the left is a driveway leading to a gate into a farm property called "Haddington". You've arrived! Proceed through the gate (please close it after you've gone through as there's livestock that we don't want to get out!) and follow the driveway approx. 1.2 Km out to the house. The property is 72 acres and is a favourite holiday destination for my family. The place is owned by my wife's sister, Robyn.
What to bring? If you are camping then you'll need a tent and your own sleeping and camping gear. The camp site has water and a toilet but is not powered. If you are staying in the house, then you'll need to bring your own bed sheets and a towel. We have blankets and pillows. Make sure you bring swimmers and a beach towel as well as some walking shoes!
If you play tennis, pack a racquet and some runners as we'll be sure to fit in a challenge game as Keith Longworth is keen to test his on-court skills.
Timing for Arrival: Plan to get to Narooma between 2.00 pm and 5.00 pm on Friday afternoon, if possible, although having said that come whenever suits you over the 4 days – if you can't be there for the whole time that's fine, come and go when it suits you.
Relax after your journey! Set up camp by the lake on the property if you wish.
No one lives on the property permanently but we have a great arrangement with the Agriculture teachers and staff at Narooma High School (our next door neighbour) who agist their stock on the property in return for maintenance and other property services like slashing and fence work, for example).
Friday 24th March
Activity #1 – Beach Walk along Glasshouse Rocks Beach at 5.00 pm followed by a BBQ dinner back at the house.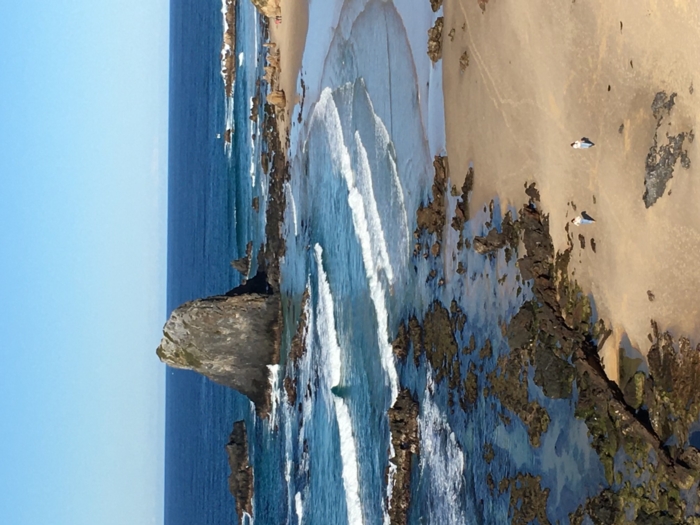 Saturday 25th March
Breakfast at the house
Activity #2 – 10.00 am Visit to Bermagui (25 Kms) to see Camel Rock and Horsehead Rock formations. After a swim, lunch at the Camel Rock Brewery and on the way back to Narooma, call in to see Tilba village. A casual dinner is planned at a local Nepalese restaurant at 6.30 pm.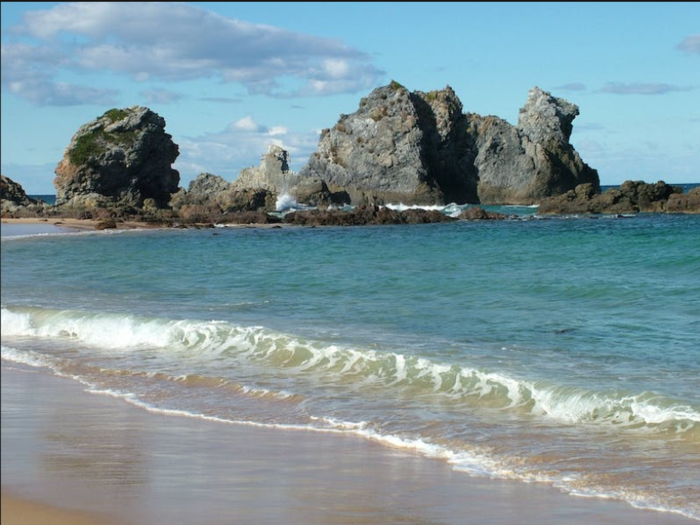 Sunday 26th March
Breakfast at the house
Activity #3 – 10.00 am Bushwalk on Mt Dromedary ("Gulaga") to visit "The Tors" (these are extraordinary granite outcrops located two-thirds of the way up the mountain that are sacred to the local indigenous Yuin people). Duration: 2-3 hours. Return via Mystery Bay for a swim.
The afternoon is "free time" – perhaps a hit of tennis or golf for those inclined at the Narooma Golf Club – it has the famous "Winfield" hole (par 3) made famous by Paul Hogan in the 70s when he did the TV ad there for the cigarette brand of the same name.
Dinner is planned at 6.30 pm at Dalmeny (Fish and Chips on the Beach front)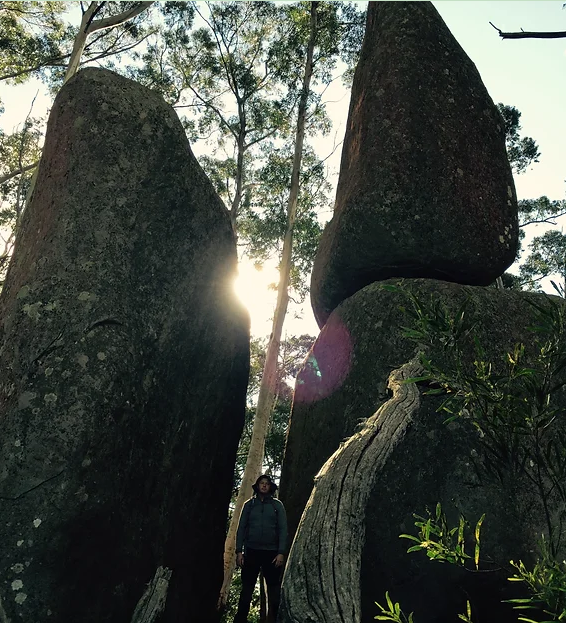 The Tors
Monday 27th March
Breakfast at the house
Nothing planned so it is "free time" for all. You can go surfing, walking, fishing, canoeing (on the lake) or more sight-seeing?
Depart at your leisure for Cooma in the Snowy Mountains (suggest go via Brown Mountain and Nimmitabel to Cooma will take a bit over 2 hours), or head back to Sydney and beyond.
SPECIAL NOTE
The original idea of coming to Narooma was to provide a place to break-up the long drive down to the Snowy Mountains – the venue for the bushwalk arranged by James and Kenny for our old Classmates. But if people want to come down and enjoy what Narooma has to offer even if they are not heading over to do that leg of bushwalking, then please know that this is perfectly fine to do as well. Just let us know what you intend doing and we'll do our best to accommodate you and what your schedule might be.
....Bill
Email: billyons01@gmail.com
Phone: +61 412 449 310
Re-union Planning #7 on Tuesday 31 January at 7:30pm
Catch the latest planning activities for the 50th Re-union on Forum Posting #991. Session recorded on Zoom for those interested. Discover which classmate played double bass and featured on David Bowie China Girl video. Very cool.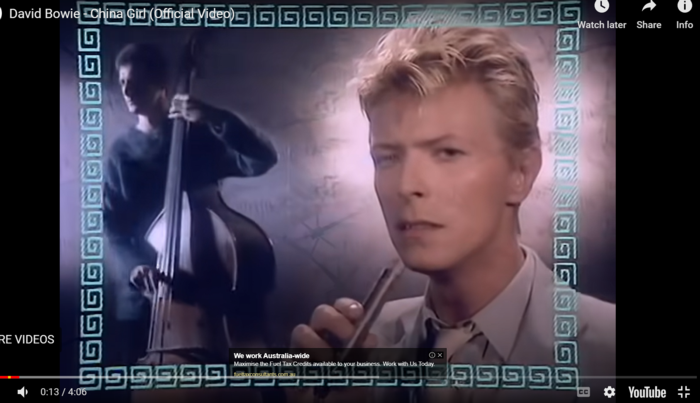 New Events & Re-unions page
With so much happening with NSBHS1973 we have added a page Events & Re-unions for publishing all the events that are being planned. Thank you James Daniel for the good suggestion.
For those interested in 50th Re-union and other activity plans all the Zoom sessions are recorded. By the way this is not an exclusive planning group, everyone is welcome to participate.
Other menu items provide access to videos and photos of previous re-unions.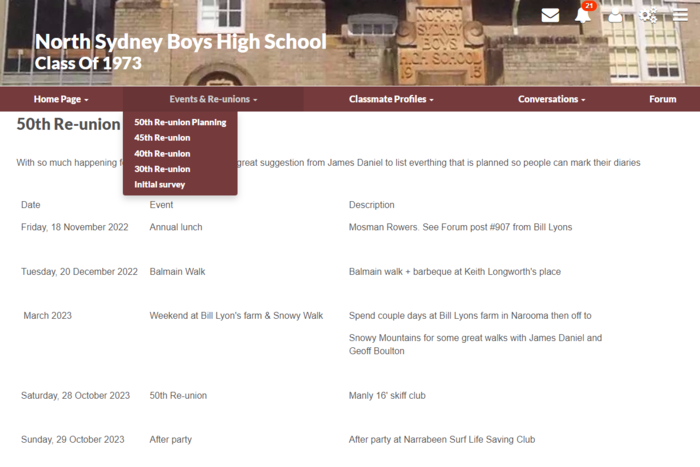 Record Interest in Website
Thanks to all those who have posted on the Forum and helped organise re-unions and activities. We have had an all time record number of 92 classmates who have visited the website in the last 30 days.